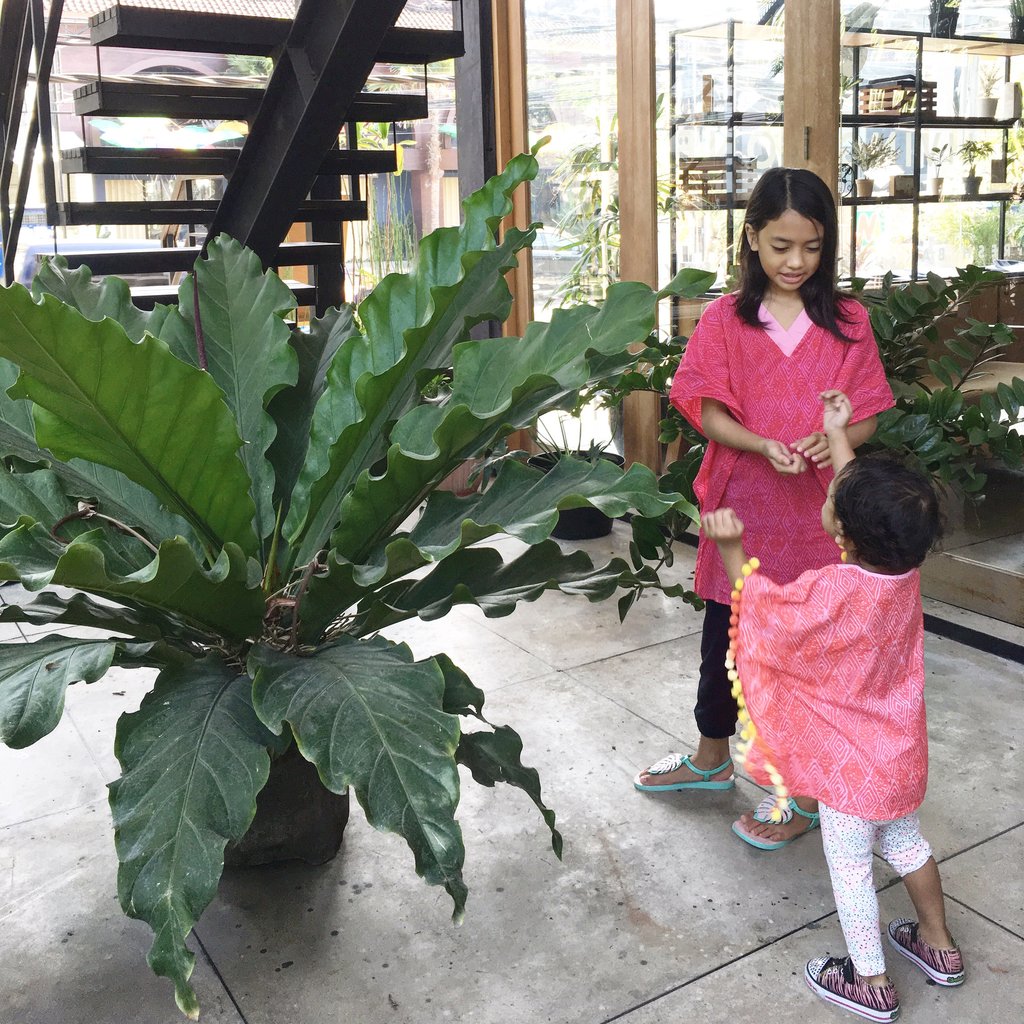 We went to Bali, Indonesia last week as our annual travel solely for business inspiration and research. Last we went to Indonesia was when N1 was almost 2 and now we brought in N2, who is almost 2 as well. Oh, what a journey to travel with kids, but this was not our first time, so we kind of prepared almost everything and expect most of the things happened. We stayed in Bali for 4 days 3 nights and it is not enough! We are coming back for sure...
We prebooked the hotels earlier and we did some research on what kind of hotels we wanted to stay, pricing, location and almost everything to ensure that it entitled the "kids friendly" expectation that we have in our criterias.
The Hotel
We stumbled this Kokonut Suites hotel which keeps on popping out in our Agoda preferences and upon checking and review, it is recommended for families. So, we booked that hotel, straight away. It was a wise decision ever. We didnt book the room together with breakfast as the coffee shop was serving non halal food, so we opt to take breakfast separately knowing we cant eat much, and we just took croissants, breads and coffee for breakfast. If you take it with breakfast, you will still need to have breakfast there. The coffee shop was so beautiful decorated and lots of natural lights and one of the recommended coffee shop in Bali under the name of Living Stone Bakery. My coffee was up to my standard, so I was pretty happy there :)
The room was a suites, it came with a bedroom, living room, small kitchenette and a private pool. We didnt know that we got a private pool, but it was not that private as the next room guests still can hello me from their yard. It was either you got a pool or a yard. We got both, so yay!
The kitchen was just nice, with kitchen cabinet, sink, stove and hood, microwave, and 2 doors fridge, complete with plates, cups, spoons and everything basic. The second day when I needed to do the packing, I asked my husband to takeaway the croissant from the coffee shop and we sat in the dining room eating our breakfast in peace.
It has a small gym, kids play area, small pool and nice ambiance also we felt very safe there. So, I recommend this hotel to any small families or business travellers.
The Villa
The 3rd night, we moved to another place. Initially we wanted to stay in Nusa Dua because we wanted the kids to play at beach, but when we included the additional bed for N1, the pricing is way too expensive, so we adjusted our itinerary and finally settled for private Villa in Seminyak.
We found the Villa via Airbnb. Apparently, my husband emailed the owner, and he got cheaper price compared to directly book the villa. #leelokidstips It was a 2 bed room villa and I didnt read properly that the other room was downstairs which N1 didnt want to sleep there alone. So we asked her to sleep with us that night, in the additional sofa bed in the master bedroom. The pool was an open pool with an open living room. A new experience for us but a good one.
The Villa name is Villa Rumi, but our villa name is Villa Mimpi. So they have like few villas under Villa Rumi. Location wise is too good, just behind the stretch of famous shops and coffee shop in Seminyak.
Same as Kokonut, it has its own kitchen, but this time it came with a maid. N1 never experience another helper in a house, so she felt pity when the maid had to wash her mugs, and clean up her mess. So the maid was always there, new to me as well, as I thought she will only be there when we called her, but no, she was always there and will be away for lunch with other maid in another villas only. But she was helpful, which, she cooked our breakfast that morning and helped me with my laundry.
We bought the groceries at the Bintang Supermarket, like a small Jaya Grocer, nearby. Basically breads, eggs, yogurt, small butters, fruits, sardines, packed drinks and biscuits for the kids. And I gave her 100K rupiah to buy white rice for her to prepare Fried Rice for us tomorrow. The plan was to have heavy breakfast so we can skip lunch and enjoy our time in the pool as much as we can.
The maid also helped us washed our dirty laundry and dried it on the balcony, and because Bali was so hot, all are dry within 2 hours.
#leelokidstips - Staying in villa meaning we didnt have that privacy, but we had a helper. The location of the villas was dark at night, and it was not as quiet as the hotel because it was located at the roadside behind all the pubs and clubs, so you can hear some music, but not that loud at night, but since the kids slept alright so, I was OK with it.
Ok, one cons of the hotel is the light was dim, and the brightest is still dimmed for us, but as long as you are not reading, then, it was ok.
So, where to stay is up to you, you can check what is your activity, before making decision where to stay.
To be continue ...